Why Be Roman Catholic? (YBRC?)
Our faith should be vital to us. Sometimes we may take it for granted. Why Be Roman Catholic? If you wonder why or what our Church teaches or why it does or doesn't do certain things, this parish program may be for you. Sessions are held on the second and fourth Tuesdays of each month at 7:00 p.m. in the Parish Center. Each session is based on a question that was submitted by an interested person. Topics for each session are announced in the parish bulletin. YBRC? is for adults who are interested in learning more about the faith. Refreshments will be served. For more information or to submit a question, after 5:00 p.m., call Matt at 226-3557.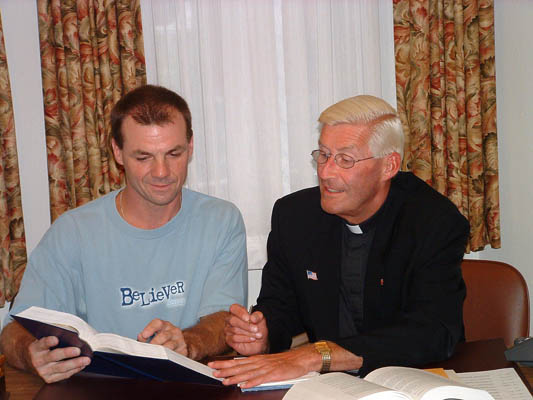 Matt Lorent and Fr. Rick research the answer to a question for YBRC?.
Return to Religious Education home page.